Based on the latest Famitsu hardware numbers...
PSP comparisons: After 223 weeks, PSP is where PS2 was at 175.2 weeks (July 8, 2003), where DS was at 98.5 weeks (October 19, 2006), and where GBA was at 150.6 weeks (February 5, 2004).

X360 comparisons: After 171 weeks, X360 is where GCN was at 16.5 weeks (January 2, 2002), where PS3 was at 34.7 weeks (July 6, 2007), and where Wii was at 5.0 weeks (December 31, 2006).

PS3 comparisons: After 123 weeks, PS3 is where PS2 was at 41.1 weeks (December 10, 2000), where PSP was at 62.3 weeks (February 14, 2006), where GCN was at 119.9 weeks (December 27, 2003), and where Wii was at 32.5 weeks (July 12, 2007).

Wii comparisons: After 120 weeks, Wii is where GBA was at 94.2 weeks (January 7, 2003), where DS was at 76.0 weeks (May 14, 2006), where PS2 was at 113.1 weeks (April 29, 2002), and where PSP was at 163.7 weeks (January 25, 2008).

DSi comparisons: After 20 weeks, DSi is where GBASP was at 41.0 weeks (November 23, 2003) and where DSL was at 12.8 weeks (May 26, 2006).

Based on the latest Media Create hardware numbers...
DS vs PSP: Weekly shares of 54.9 / 45.1 bring total shares to 68.6 / 31.4. If DS stopped selling and PSP continued at this week's rate, it would catch up in 214.7 weeks (May 4, 2013).

X360 vs PS3: Weekly shares of 17.6 / 82.4 bring total shares to 24.7 / 75.3. If PS3 stopped selling and X360 continued at this week's rate, it would catch up in 363.7 weeks (March 11, 2016).

PS3 vs Wii: Weekly shares of 58.4 / 41.6 bring total shares to 27.3 / 72.7. This is the first time PS3 has outsold Wii four weeks in a row. At this week's rates PS3 catches up to Wii in 668.1 weeks (January 10, 2022). If Wii stopped selling and PS3 continued at this week's rate, it would catch up in 192.8 weeks (December 1, 2012).

Week over week, PS3 and X360 come down from RE5 bumps, DS and PSP bump up from new colors, and PS2 and Wii stay pretty flat.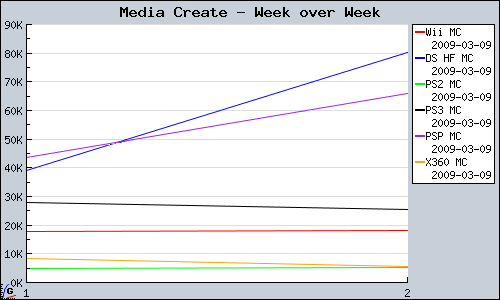 After its 225th week, the combined DS systems have passed 26 million.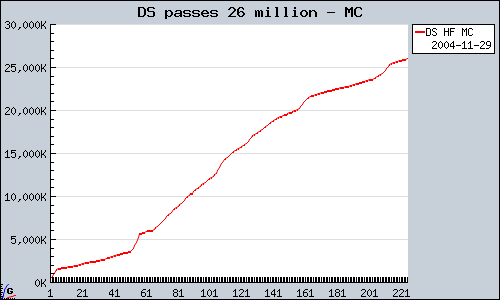 Through the first twelve weeks of the year,
almost
everything is down by some degree. Here's how the year-to-date year-over-year percents stand as of now.
Wii: -63.0%
DSL+DSi: -5.0%
PS2: -54.9%
PS3: -3.0%
PSP: -34.0%
X360: +207.0%
Home hardware: -41.2%
Portable hardware: -19.4%
Sum of all hardware: -29.0%
Famitsu Software Stuff
Mario & Luigi RPG 3 (3432) has now sold more than either previous game sold while in the Top 30, and has yet to drop from the Top 10.
One Piece Unlimited Cruise: Episode 2 is performing similarly to the original. Its first week was lower, but its second and third weeks have been better.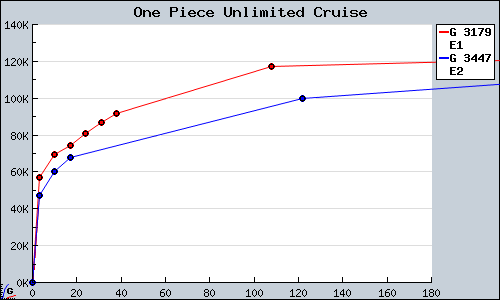 Animal Crossing City Folk has finally fallen out of the Top 30 (for this week, at least), but Wild World at #25 maintains an Animal Crossing presence in the list. At the rate it's been selling recently, Wild World is probably 8 or 9 weeks from hitting 5 million.