Based on the latest Famitsu hardware numbers...
PSP comparisons: After 245 weeks, PSP is where PS2 was at 196.0 weeks (November 30, 2003), where DS was at 104.0 weeks (November 26, 2006), and where GBA was at 165.7 weeks (May 21, 2004).

X360 comparisons: After 193 weeks, X360 is where GCN was at 18.2 weeks (January 14, 2002), where PS3 was at 40.0 weeks (August 12, 2007), and where Wii was at 5.8 weeks (January 6, 2007).

PS3 comparisons: After 145 weeks, PS3 is where PS2 was at 48.0 weeks (January 28, 2001), where PSP was at 71.1 weeks (April 17, 2006), where GCN was at 134.3 weeks (April 6, 2004), and where Wii was at 36.8 weeks (August 10, 2007).

Wii comparisons: After 142 weeks, Wii is where GBA was at 101.6 weeks (February 27, 2003), where DS was at 78.3 weeks (May 30, 2006), where PS2 was at 122.2 weeks (July 1, 2002), and where PSP was at 172.0 weeks (March 23, 2008).

DSi comparisons: After 42 weeks, DSi is where GBASP was at 58.2 weeks (March 22, 2004) and where DSL was at 20.9 weeks (July 22, 2006).

Based on the latest Media Create hardware numbers...
DS vs PSP: Weekly shares of 70.6 / 29.4 bring total shares to 68.4 / 31.6. If DS stopped selling and PSP continued at this week's rate, it would catch up in 543.6 weeks (January 24, 2020).

X360 vs PS3: Weekly shares of 81.4 / 18.6 make this the most X360-tilted week ever. This brings total shares to 25.2 / 74.8. At this week's rates, X360 catches up to PS3 in 313.6 weeks (August 28, 2015). If PS3 stopped selling and X360 continued at this week's rate, it would catch up in 241.9 weeks (April 13, 2014).

PS3 vs Wii: Weekly shares of 7.1 / 92.9 make this the most Wii-tilted week ever. This brings total shares to 28.0 / 72.0. If Wii stopped selling and PS3 continued at this week's rate, it would catch up in 2,503.1 weeks (August 13, 2057).

Week over week, everything is returning from a holiday bump, though for their own reasons Wii and PS3 drop even more. X360 drops the least and continues floating strangely high.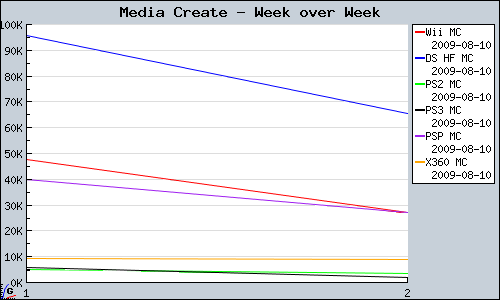 Through the first thirty-four weeks of the year, overall sales are down. However, the systems can be split into camps of 3 up and 3 down. Here's how the year-to-date year-over-year percents stand as of now.
Wii: -54.2%
DSL+DSi:
+14.0%
PS2: -52.2%
PS3:
+1.8%
PSP: -46.2%
X360:
+107.0%
Home hardware: -35.9%
Portable hardware: -19.6%
Sum of all hardware: -26.2%
Last year: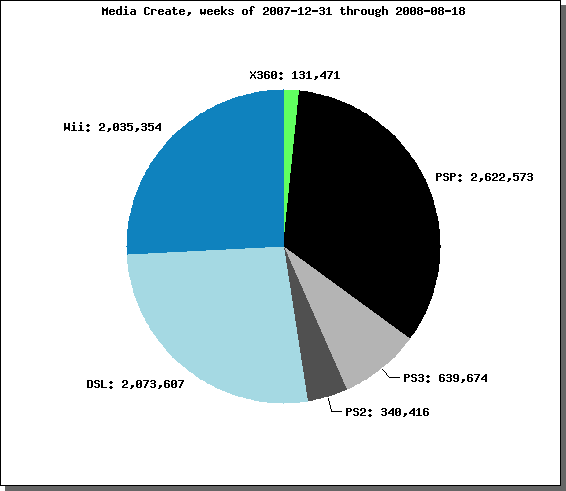 This year: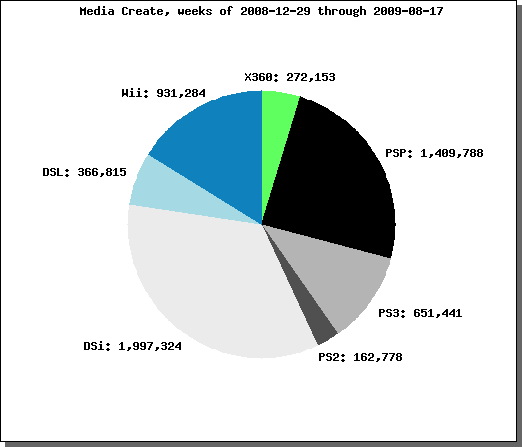 Famitsu Software Stuff
Freaky-deaky Tomodachi Collection increased its weekly sales AGAIN and AGAIN. This last holiday-bumped week was its biggest yet.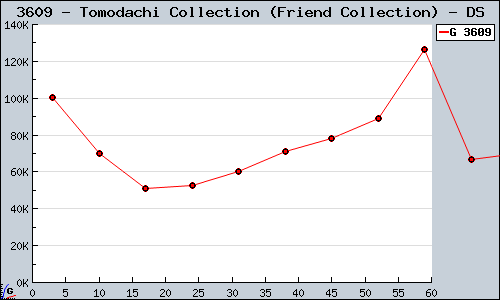 In its sixth week Dragon Quest IX not only continues outpacing Dragon Quest VIII, but has outsold the initial release altogether! Should take another week or two to additionally outdo what DQ VIII sold in Best form. Though not pictured here, it's worth noting that as of week six Dragon Quest IX is back ahead of Dragon Quest VII: 3.62 M to 3.57 M. Thanks to Chris1964 for keeping up with that stat in particular.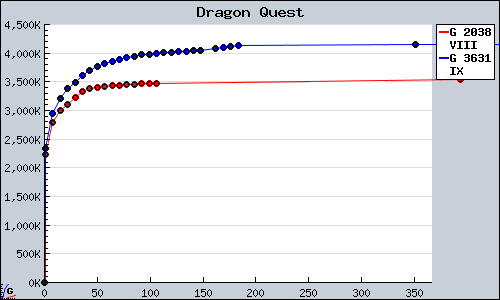 Monster Hunter 3's first week put it ahead of the initial PS2 release of Monster Hunter 2. The second week put it ahead of PS2 MH2 combined with its Best release. The third week is just gravy.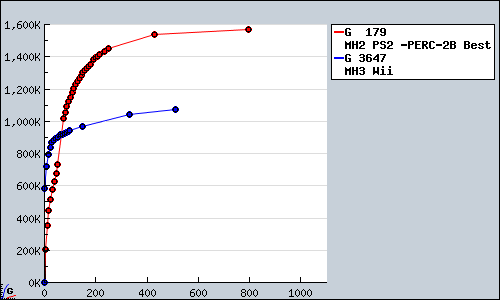 Tales of Versus isn't off to a bad start for a modern Tales game, but it's not quite matching up to this year's first PSP Tales hit, either.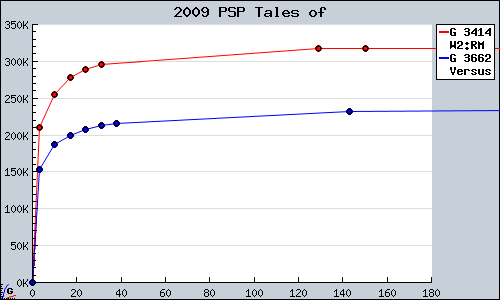 Continuing the comparison of decently successful Puyo games from a few weeks back, it looks like DS's Puyo Puyo 7 is behaving a lot like PS2's Puyo Puyo Fever.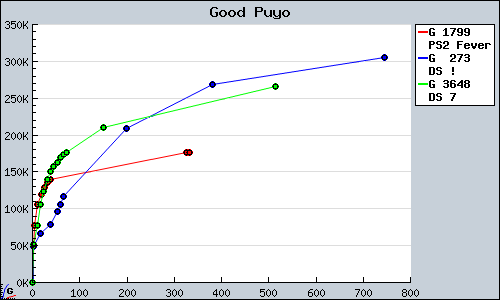 Tingle's second outing doesn't start off as well as his first.