Based on the latest Famitsu hardware numbers...
PSP comparisons: After 240 weeks, PSP is where PS2 was at 193.9 weeks (November 15, 2003), where DS was at 102.9 weeks (November 18, 2006), and where GBA was at 162.1 weeks (April 26, 2004).

X360 comparisons: After 188 weeks, X360 is where GCN was at 17.6 weeks (January 10, 2002), where PS3 was at 39.2 weeks (August 6, 2007), and where Wii was at 5.7 weeks (January 5, 2007).

PS3 comparisons: After 140 weeks, PS3 is where PS2 was at 47.1 weeks (January 22, 2001), where PSP was at 69.8 weeks (April 8, 2006), where GCN was at 130.1 weeks (March 7, 2004), and where Wii was at 36.2 weeks (August 6, 2007).

Wii comparisons: After 137 weeks, Wii is where GBA was at 99.6 weeks (February 13, 2003), where DS was at 77.4 weeks (May 24, 2006), where PS2 was at 117.8 weeks (June 1, 2002), and where PSP was at 168.7 weeks (February 29, 2008).

DSi comparisons: After 37 weeks, DSi is where GBASP was at 50.6 weeks (January 29, 2004) and where DSL was at 18.3 weeks (July 4, 2006).

Based on the latest Media Create hardware numbers...
DS vs PSP: Weekly shares of 81.6 / 18.4 bring total shares to 68.3 / 31.7. If DS stopped selling and PSP continued at this week's rate, it would catch up in 603.9 weeks (February 14, 2021).

X360 vs PS3: Weekly shares of 24.6 / 75.4 bring total shares to 24.8 / 75.2. If PS3 stopped selling and X360 continued at this week's rate, it would catch up in 748.9 weeks (November 26, 2023).

PS3 vs Wii: Weekly shares of 29.9 / 70.1 bring total shares to 28.4 / 71.6. If Wii stopped selling and PS3 continued at this week's rate, it would catch up in 555.8 weeks (March 14, 2020).

Week over week, DS is down about 20%, everything else down about 10%.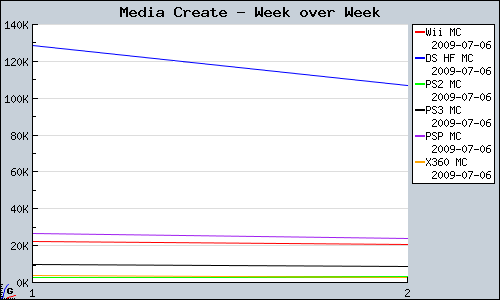 Through the first twenty-nine weeks of the year, overall sales are down. However, the systems can be split into camps of 3 up and 3 down. Here's how the year-to-date year-over-year percents stand as of now.
Wii: -62.2%
DSL+DSi:
+10.3%
PS2: -51.5%
PS3:
+5.2%
PSP: -46.4%
X360:
+183.6%
Home hardware: -39.4%
Portable hardware: -21.9%
Sum of all hardware: -29.0%
Last year: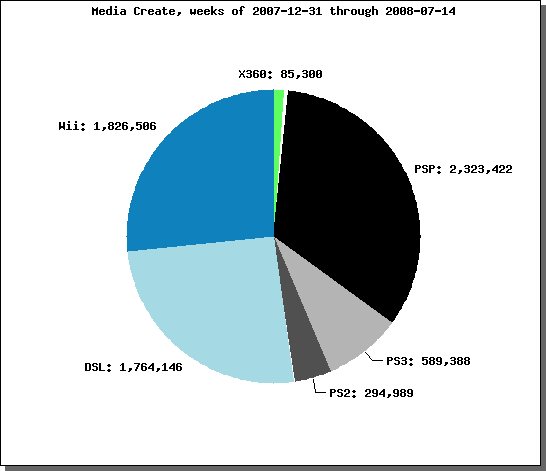 This year: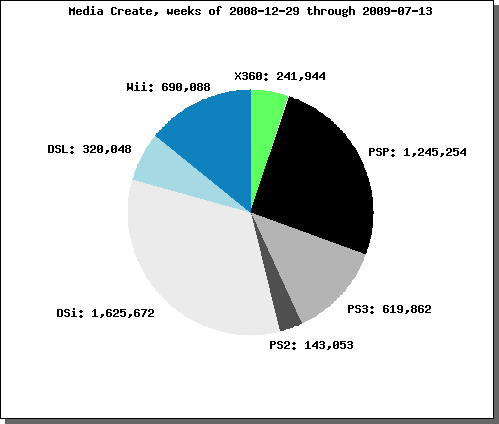 Famitsu Software Stuff
Of course the big release this week is Dragon Quest IX. Though the only other new mainline Dragon Quest in Garaph is VIII, take my word that it had the biggest first week of the series. The biggest week of ANY game only available for two days in a week. So it's pretty impressive to see IX beat it by about 100K, even if that doesn't look like much on the scale of this image.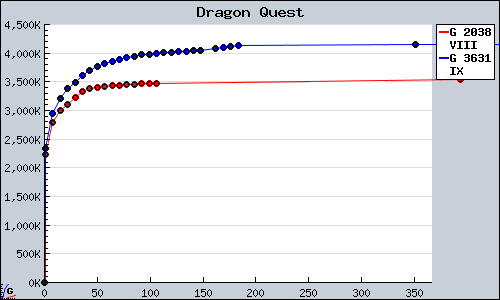 Final Fantasy VIII with its 2.5 million is still the greatest first week overall, but like most games FFVIII was available for four days its first week.
DS has some incredible selling games and there's no guarantee Dragon Quest IX will reach 5 million territory as some of them have, it's still pretty interesting to see the difference in how quickly it starts. With its first week DQ IX became the #8 game on DS by lifetime sales; here it is compared to the games above it.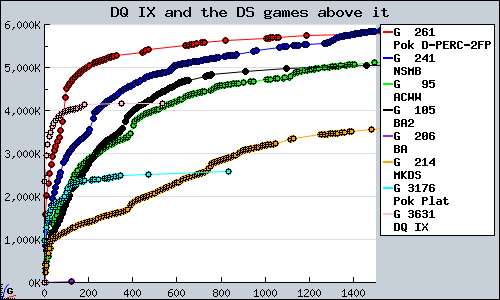 The closest any game gets to starting like DQ IX is #1 Diamond/Pearl, but even after three weeks it was still a little short of DQ IX's first week.
Its first week also makes it
the #15 overall game
in the PS2/GBA/GCN/Xbox/DS/PSP/X360/Wii era Garaph properly covers, though I'll leave it to you to follow the link and see all 2+ million sellers if you wish. It is most interesting to note that it beats out the final totals of Final Fantasy X and XII, though that doesn't include any budget or international rereleases.
I usually don't show the Famitsu Top 30 software bar, but this week's is particularly amusing.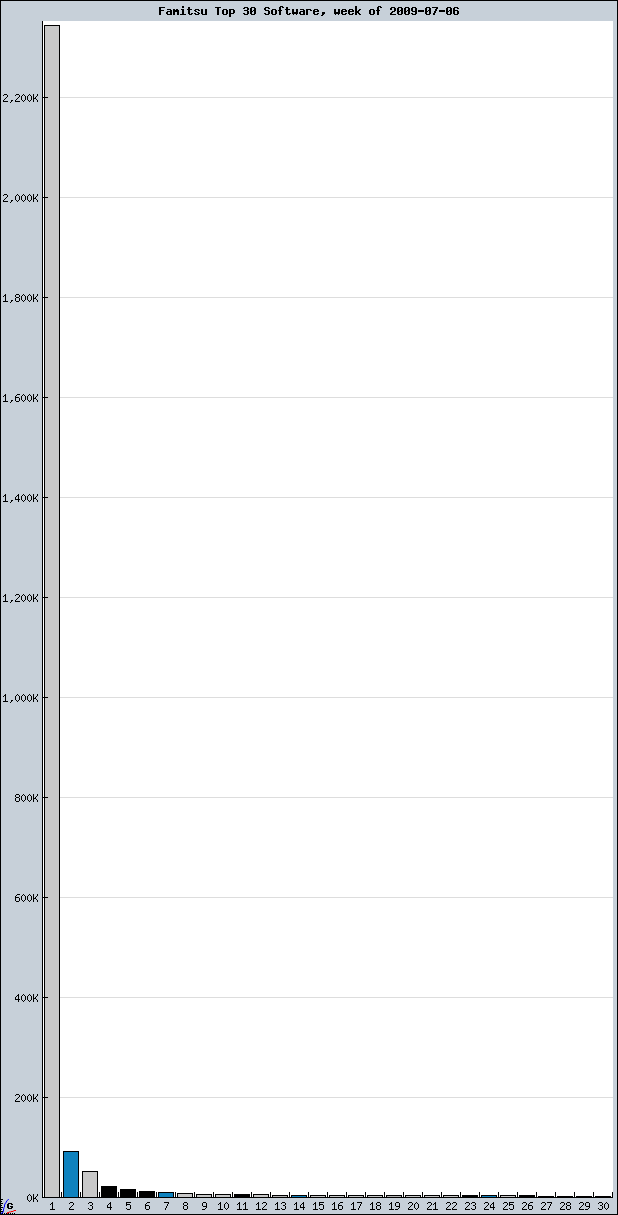 Moving away from Dragon Quest...
PSP's Boku no Natsuyasumi 4 (3629) beats out the last known total of PS3's Boku no Natsuyasumi 3 (4).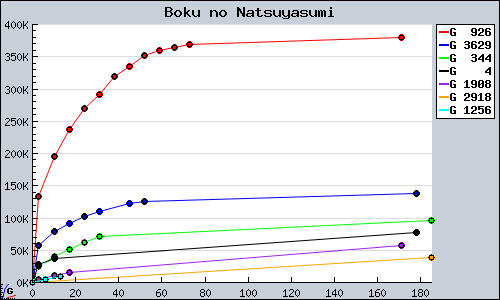 Though this news would've been more appropriate a few weeks ago, it's been brought to my attention that Kirby Super Star Ultra has apparently become the best selling Kirby on DS, passing up Kirby Squeak Squad. It's possible Squeak Squad is still a little ahead, but considering it averaged about 1K/week throughout 2008, it won't be by the time we get another update on it--if we ever do.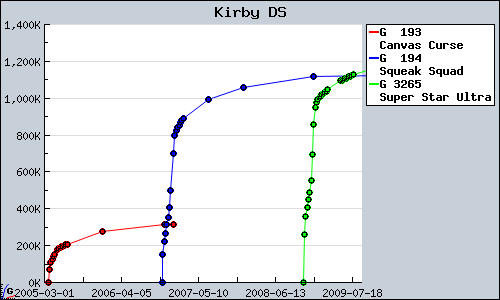 The only better-selling Kirby games are the original two early 1990s Game Boy games, which reached about 1.5 million each.
New Super Mario Bros. and Inazuma Eleven are friends. This week thanks to the DS bump they're sitting next to each other on the Top 30, at #27 and #28. Last week they were sitting together at #36 and #37. The week before they were sitting together at #49 and #50.
Famitsu Software Pie note: Thanks to Dragon Quest IX, DS takes a monstrous percentage of total software sales, resulting in low percents for everything else, include a record low for PS2. DS's weekly percentage is actually a record high for any system since Famitsu started giving percentages that cover the whole market and not just the Top 30.
DS:   88.8
Wii:   5.1
PSP:   3.5
PS3:   1.4
PS2:   0.8
X360:  0.4
Other: 0.1