This quarter Wii surpassed SNES and became the second Nintendo home console to pass 50 million units shipped. About 11.5 million remain until it passes NES.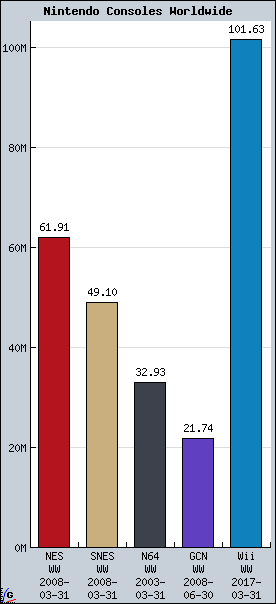 Very little movement in Japan this quarter.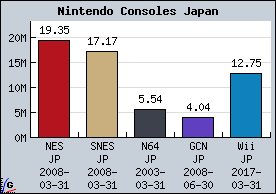 At the end of 2008, Wii shipments were just below N64's final total in North America. With a quarter of over 3 million shipped, it's surpassed not only N64, but also SNES.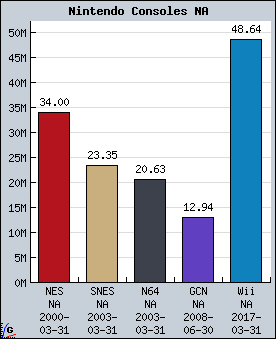 Wii long ago become the most successful Nintendo home console ever in Europe. This quarter still marks an interesting milestone, though, in that Wii has shipped more than NES and SNES combined. The previous four systems combined only come to 28.66 million. Wii has less than 10 million to go to pass that.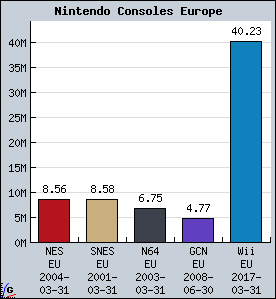 Though we are increasingly not near launch,
there are still more Wiis available than any near-launch home console ever
.
DS becomes the fourth gaming device to pass 100 million units shipped, if you count Game Boy and Game Boy Color together as does Nintendo. Current DS shipment numbers place it just below PS1.

Though neither DS nor Wii set an absolute worldwide shipping record for a January-February-March quarter this year, they were both among the best. Looking at the history of the top game machines around, here are the times when the first quarter of a calendar year went over 4 million. If GB/GBC or GBA ever had such a quarter we can't tell due to lack of quarterly shipment reports at their peaks, but making guesstimates based on their yearly or half-yearly numbers I doubt either would make this list.
PS2 2005: 6.08 M
DS  2008: 5.81 M
DS  2009: 5.56 M
Wii 2009: 5.43 M
DS  2007: 4.68 M
PS1 1998: 4.62 M
Wii 2008: 4.32 M
PS2 2001: 4.21 M
How about over the full fiscal year, though? In that case, DS and Wii did set records. As far as I can see, DS just had the best year for a portable system and Wii had the best year for a home console. Here are all years I know of over 20 million. Note that here 2009 indicates the year of April 1, 2008 through March 31, 2009.
DS  2009: 31.18 M
DS  2008: 30.31 M
Wii 2009: 25.94 M
DS  2007: 23.56 M
PS2 2003: 22.52 M
PS2 2004: 20.10 M
PS1 1999: 21.60 M
If you want to check out old shipment information for yourself, I recommend trying out the Garaph
shipment line graph
and
shipment bar graph
tools.