Based on the latest Famitsu hardware numbers...
PSP comparisons: After 229 weeks, PSP is where PS2 was at 182.0 weeks (August 24, 2003), where DS was at 100.2 weeks (October 30, 2006), and where GBA was at 154.8 weeks (March 6, 2004).

X360 comparisons: After 177 weeks, X360 is where GCN was at 16.7 weeks (January 4, 2002), where PS3 was at 37.1 weeks (July 23, 2007), and where Wii was at 5.3 weeks (January 2, 2007).

PS3 comparisons: After 129 weeks, PS3 is where PS2 was at 44.2 weeks (January 2, 2001), where PSP was at 66.4 weeks (March 15, 2006), where GCN was at 121.1 weeks (January 5, 2004), and where Wii was at 37.4 weeks (July 25, 2007).

So PS3 has finally escaped from what PS2 did in its launch calendar year, March-December.

Wii comparisons: After 126 weeks, Wii is where GBA was at 95.7 weeks (January 17, 2003), where DS was at 76.6 weeks (May 18, 2006), where PS2 was at 114.6 weeks (May 9, 2002), and where PSP was at 165.5 weeks (February 6, 2008).

DSi comparisons: After 26 weeks, DSi is where GBASP was at 45.0 weeks (December 21, 2003) and where DSL was at 14.8 weeks (June 10, 2006).


Famitsu Software Stuff

For those who have been watching the Media Create sales, these Famitsu ones will be even more old hat than usual, BUT HEY, now I can throw them into my graphs.

Monster Hunter G Wii (3504) starts off slightly stronger than the 2005 PS2 game it's a port of (2077).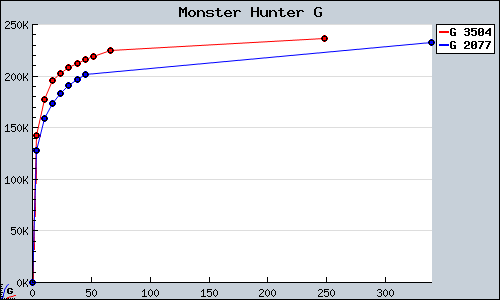 PSP original Disaster Report 3 (3506) doesn't start as strong as the PS2 original (935), but stronger than the PS2 sequel (2419).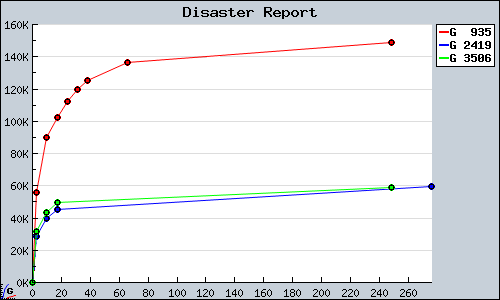 Though Animal Crossing Wild World has most recently been on the charts, this week it doesn't show up but City Folk does. City Folk has gained about 35K since we saw it last 1-2 months ago.
It refuses to leave the Top 10, but Mario & Luigi RPG 3 (3432) is finally slowing down a little.
Famitsu Software Pie: With Monster Hunter G Wii has 27.6% of overall software sales, getting second place--to DS of course. This is its first second place and first week of over 20% since doing so throughout most of December and January.