Based on the latest Famitsu hardware numbers...

PSP comparisons: After 196 weeks, PSP is where PS2 was at 147.9 weeks (December 28, 2002), where DS was at 88.8 weeks (August 11, 2006), and where GBA was at 125.4 weeks (August 13, 2003).

PS3 comparisons: After 96 weeks, PS3 is where PS2 was at 21.3 weeks (July 25, 2000), where PSP was at 53.2 weeks (December 12, 2005), where GCN was at 100.6 weeks (August 14, 2003), and where Wii was at 23.3 weeks (May 8, 2007).

Wii comparisons: After 93 weeks, Wii is where GBA was at 89.3 weeks (December 3, 2002), where DS was at 70.0 weeks (April 1, 2006), where PS2 was at 97.5 weeks (January 9, 2002), and where PSP was at 152.7 weeks (November 9, 2007).

Based on the latest Media Create hardware numbers...

DS vs PSP: Weekly shares of 67.9 / 32.1, DS's strongest since the week before Crisis Core. This brings total shares to 69.4 / 30.6. If DS stopped selling and PSP continued at this week's rate, it would catch up in 434.0 weeks (January 8, 2017).

X360 vs PS3: Weekly shares of 77.8 / 22.2 bring total shares to 22.5 / 77.5. At this week's rates, X360 catches PS3 in 81.3 weeks (April 6, 2010). If PS3 stopped selling and X360 continued at this week's rate, it would catc up in 58.1 weeks (October 26, 2009).

PS3 vs Wii: Weekly shares of 21.3 / 78.7, bringing total shares to 25.5 / 74.5. If Wii stopped selling and PS3 continued at this week's rate, it would catch up in 551.7 weeks (April 12, 2019).

X360 is now having its best year ever, besting its 2007 performance this far in.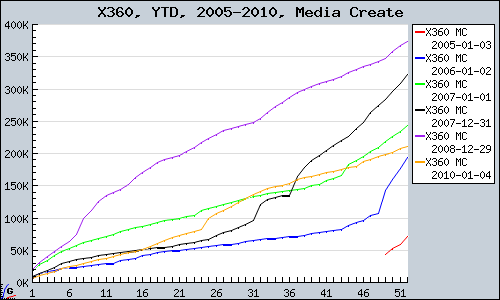 Week over week, most systems are slightly down, with two notable exceptions. DS kicks up more than 10K, and X360 bursts out of its shortage to nearly Wii and PSP levels. It's worth noting that while this week Media Create has PSP > Wii > X360, Famitsu has X360 > Wii > PSP. Very close.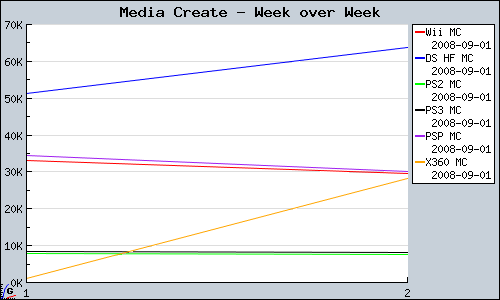 Famitsu software Stuff
Numerous games reenter the top 30 this week after new games from the previous week or two have died down: Fatal Frame, New Super Mario Bros., Derby Stallion DS, Beautiful Letter Training, and the first DS Taiko no Tatsujin.
Fatal Frame: Mask of the Lunar Eclipse (3062) is performing steadily, and is now very near the top two games in the series. Seems it has a good chance to become the top seller in the series, though it's possible we won't see that before it drops out of the weekly Top 30.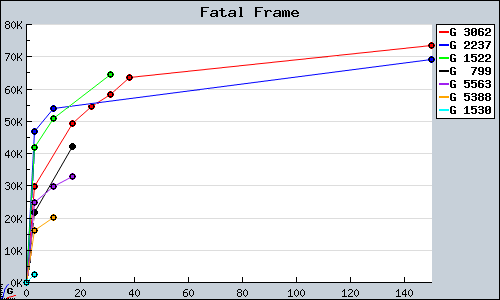 Wario Land: Shake It! continues crawling, but at a slowing pace. The last three weeks have been 7.6K -> 5.4K -> 3.6K. I doubt we see it in the Top 30 again.