Based on the latest Media Create numbers...
DS vs PSP: Weekly shares of 48.4 / 51.6, DS's highest since it was ahead the week of Pokémon Ranger Batonnage. This brings total shares to 69.6 / 30.4. At this week's rates PSP catches up to DS in 3,435.8 weeks (June 9, 2074). If DS stopped selling and PSP continued at this week's rate, it would catch up in 212.4 weeks (August 30, 2012).

DS passes 23 million.

PS3 vs Wii: Weekly shares of 18.8 / 81.2, bringing total shares to 25.7 / 74.3. If Wii stopped selling and PS3 continued at this week's rate, it would catch up in 449.5 weeks (March 16, 2017).

Based on the latest Famitsu numbers...
PSP comparisons: After 191 weeks, PSP is where PS2 was at 147.7 weeks (December 27, 2002), where DS was at 87.7 weeks (August 3, 2006), and where GBA was at 125.0 weeks (August 10, 2003).

PS3 comparisons: After 90 weeks, PS3 is where PS2 was after 20.3 weeks (July 17, 2000), where PSP was after 52.6 weeks (December 8, 2005), where GCN was after 96.8 weeks (July 18, 2003), and where Wii was after 22.4 weeks (May 2, 2007).

Wii comparisons: After 87 weeks, Wii is where GBA was at 87.7 weeks (November 21, 2002), where DS was at 69.0 weeks (March 25, 2006), where PS2 was at 96.5 weeks (January 2, 2002), and where PSP was at 149.2 weeks (October 15, 2007).

By Famitsu's count, Wii Fit has retaken its lead over Monster Hunter Portable 2G.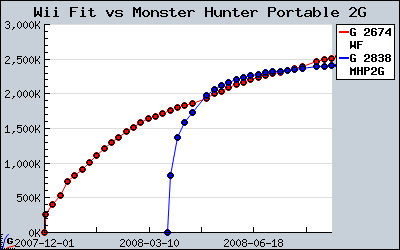 Mario Kart Wii
continues being the strongest performer in
the series
. It's not quite to where
Mario Kart DS
was after a full year, but it's getting close.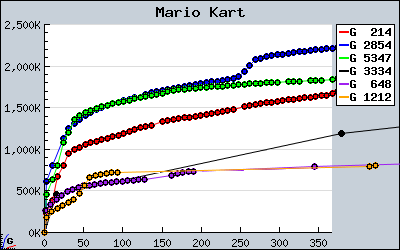 Super Mario Stadium
is sticking around the charts, but looks like it's lost more ground to its
GCN baseball predecessor
.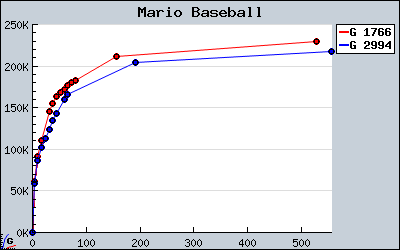 Persona 4
continues doing much better than
either
Persona 3
release
.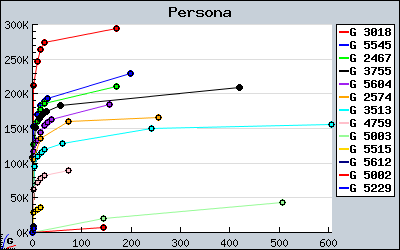 Band Brothers DX
also continues doing much better than
the first Band Brothers
.