Based on the latest Famitsu hardware numbers...
PSP comparisons: After 235 weeks, PSP is where PS2 was at 189.0 weeks (October 12, 2003), where DS was at 101.8 weeks (November 10, 2006), and where GBA was at 158.8 weeks (April 3, 2004).

X360 comparisons: After 183 weeks, X360 is where GCN was at 17.0 weeks (January 6, 2002), where PS3 was at 38.0 weeks (July 29, 2007), and where Wii was at 5.5 weeks (January 4, 2007).

PS3 comparisons: After 135 weeks, PS3 is where PS2 was at 45.3 weeks (January 9, 2001), where PSP was at 68.4 weeks (March 29, 2006), where GCN was at 124.8 weeks (January 31, 2004), and where Wii was at 35.5 weeks (August 1, 2007).

Wii comparisons: After 132 weeks, Wii is where GBA was at 98.5 weeks (February 6, 2003), where DS was at 77.1 weeks (May 22, 2006), where PS2 was at 116.1 weeks (May 20, 2002), and where PSP was at 167.1 weeks (February 18, 2008).

DSi comparisons: After 32 weeks, DSi is where GBASP was at 46.4 weeks (December 31, 2003) and where DSL was at 16.4 weeks (June 20, 2006).

Based on the latest Media Create hardware numbers...
DS vs PSP: Weekly shares of 61.1 / 38.9 bring total shares to 68.3 / 31.7. If DS stopped selling and PSP continued at this week's rate, it would catch up in 530.9 weeks (August 17, 2019).

X360 vs PS3: Weekly shares of 44.5 / 55.5 bring total shares to 24.7 / 75.3. This is the highest weekly share X360 has had relative to PS3 among the weeks where it didn't actually outsell PS3. If PS3 stopped selling and X360 continued at this week's rate, it would catch up in 267.5 weeks (July 31, 2014).

PS3 vs Wii: Weekly shares of 35.2 / 64.8 bring total shares to 28.4 / 71.6. If Wii stopped selling and PS3 continued at this week's rate, it would catch up in 486.5 weeks (October 11, 2018).

Week over week, nothing fluctuates more than 2.2K in either direction.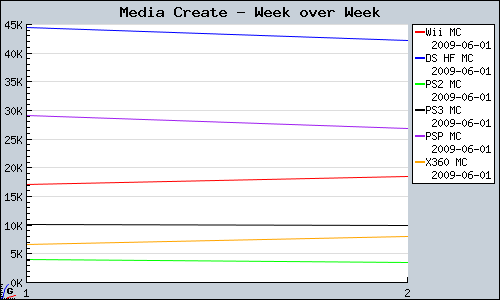 Through the first twenty-four weeks of the year, overall sales are down. However, the systems can be split into camps of 3 up and 3 down. Here's how the year-to-date year-over-year percents stand as of now.
PS3 takes a big dive this week. Last week it was 27.5% ahead of the year before; this week it is down to 10.8%. This is because last year's numbers just hit the MGS4 bump.
Wii: -63.9%
DSL+DSi:
+2.4%
PS2: -49.8%
PS3:
+10.8%
PSP: -45.1%
X360:
+234.8%
Home hardware: -38.8%
Portable hardware: -24.7%
Sum of all hardware: -30.4%
Last year: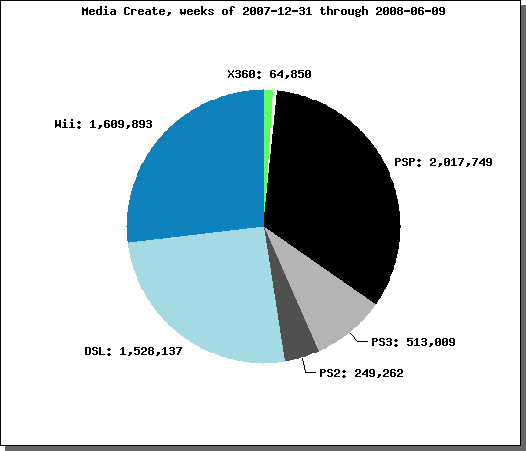 This year: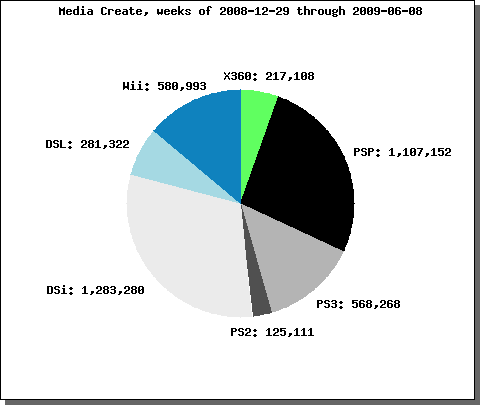 Famitsu Software Stuff
So though it passed this several weeks ago, thanks to popping back up on the Top 30 we can see for sure that Animal Crossing: Wild World (95) has joined the 5+ million club, joining Pokémon Ruby/Sapphire (855), New Super Mario Bros. (241), and Pokémon Diamond/Pearl (261).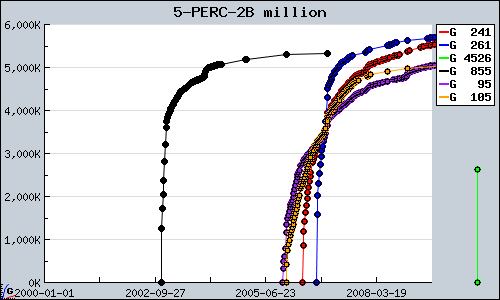 Looking at a launch-aligned version, we can see that Wild World took a lot longer to reach 5 million than those other games. Diamond/Pearl took about 200 days. Ruby/Sapphire about 400 days. NSMB about 600 days. Wild World about 1300 days.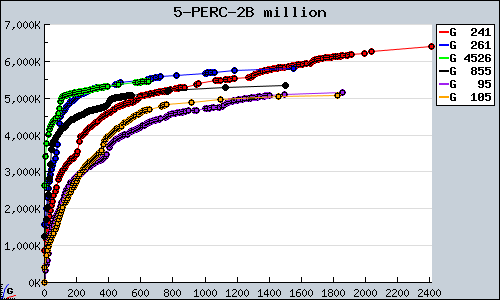 The only modern game left in my database over 4 million but not over 5 million is Brain Age 2... which I believe actually passed 5 million earlier this year, but its failure to make any Top 30 lists since January 2008 makes it harder to keep track of.
Out of sight since February, Professor Layton and the Last Time Travel (3293) has in the between gained about 50K. As was the case when last we saw it it's tracking above the first game (271) but below the second (2673).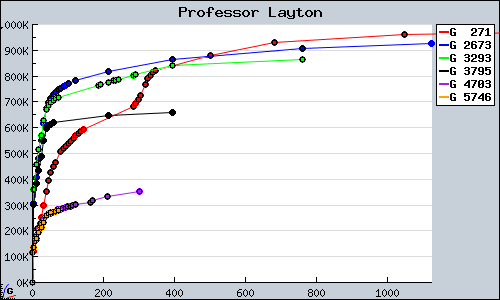 Kingdom Hearts: 358/2 Days (3586) continues performing... adamantly in-between. It's not doing as well as the original (984) or second (2352) PS2 games, but its second week number puts it past the total of GBA Chain of Memories (1645) and all Final Mix releases.