Based on the latest Famitsu hardware numbers...
PSP comparisons: After 217 weeks, PSP is where PS2 was at 169.7 weeks (May 30, 2003), where DS was at 96.6 weeks (October 5, 2006), and where GBA was at 146.5 weeks (January 8, 2004).

X360 comparisons: After 164 weeks, X360 is where GCN was at 15.9 weeks (December 29, 2001), where PS3 was at 27.6 weeks (May 17, 2007), and where Wii was at 4.6 weeks (December 28, 2006).

PS3 comparisons: After 117 weeks, PS3 is where PS2 was at 32.0 weeks (October 8, 2000), where PSP was at 57.4 weeks (January 11, 2006), where GCN was at 118.8 weeks (December 19, 2003), and where Wii was at 30.6 weeks (June 29, 2007).

Wii comparisons: After 114 weeks, Wii is where GBA was at 93.7 weeks (January 3, 2003), where DS was at 75.0 weeks (May 7, 2006), where PS2 was at 111.4 weeks (April 17, 2002), and where PSP was at 161.8 weeks (January 12, 2008).

DSi comparisons: After 14 weeks, DSi is where GBASP was at 31.4 weeks (September 17, 2003), and where DSL was at 11.9 weeks (May 21, 2006).


Based on the latest Media Create hardware numbers...
DS vs PSP: Weekly shares of 63.9 / 36.1 bring total shares to 68.8 / 31.2. If DS stopped selling and PSP continued at this week's rate, it would catch up in 402.0 weeks (October 24, 2016).

X360 vs PS3: Weekly shares of 34.1 / 65.9 bring total shares to 24.3 / 75.7. If PS3 stopped selling and X360 continued at this week's rate, it would catch up in 227.4 weeks (June 19, 2013).

PS3 vs Wii: Weekly shares of 44.1 / 55.9 bring total shares to 26.4 / 73.6. If Wii stopped selling and PS3 continued at this week's rate, it would catch up in 308.4 weeks (January 7, 2015).


Week over week, other than a slight upward blip by X360, everything is down.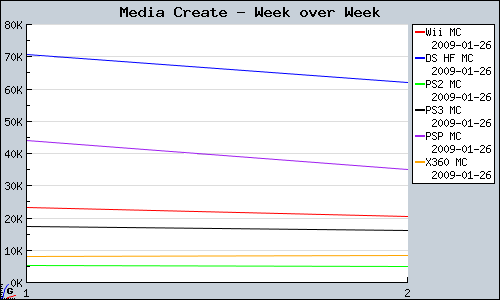 Looking at total weekly hardware sales for the last few years, we can easily see that 2009 is much lower than 2007 or 2008. It's still higher than early 2006; but that was a time when X360 was unimportant, PS3/Wii hadn't released, and DS was in shortage.
Famitsu Software Stuff
Tales of the World: Radiant Mythology 2 has a pretty great first week. It alone puts it just shy of being the top Tales of the World title.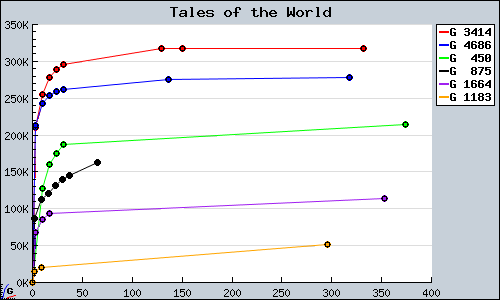 It's also the biggest first week any Tales game has had since late 2006's Tales of Destiny PS2 remake.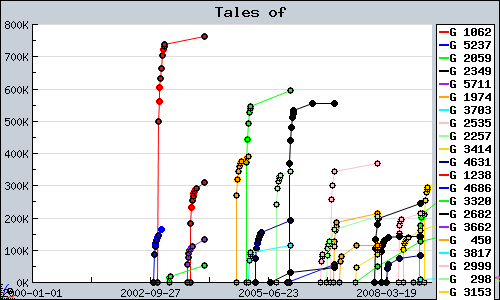 The DS (3416) and Wii (3418) versions of Final Fantasy Crystal Chronicles: Echoes of Time do not exactly hold up well compared to the previous GCN (1203) and DS (147) games in the series.
In the last five months, three Soul Eater games have been released. Monotone Princess for Wii, Plot of Medusa for DS, and now Battle Resonance for PSP. They've all had pretty low first weeks, and the first two didn't chart their second week. Seems pretty doubtful this new one will buck the trend.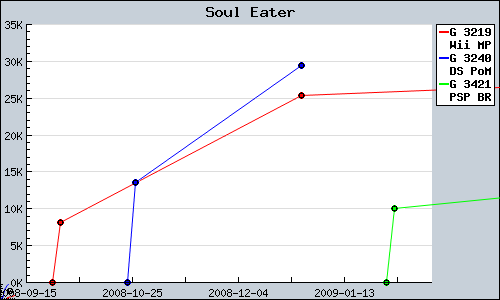 With PSP games taking the top two spots for the week, total PSP software sales passed DS software sales for the week. The last time DS wasn't the top software platform of the week was
last April, when Mario Kart Wii launched
.